Privacy Policy
All the legal words that say we do not provide your name, email address or other contact information to anyone else. Also that we participate in various advertising and affiliate programes.
Travel Advisory
Up close and personal with an archeological dig--is that your idea of romance and adventure like in all the stories? Read how to do it at this blog post
Wherever you journey you will get the most from the experience by enjoying the local food and drink. Everything tastes better when you are happy and relaxed. Read more at Taste the Place, Greek Island Wine
Also we have a villa to rent in Aliki, Paros that includes olive oil and vegetables grown on the premises. Greek island villas
Featured Advertisers
Remote Workers in Demand -- Find Your Niche
Audible Audiobooks Special Offers From 99p
Try Amazon Prime 30-Day Free Trial
Web Site Privacy Information
Privacy Policy for all pages of this web site
Of course we do not provide your name nor email address to any other parties.
We use third-party advertising companies to serve ads when you visit our website. These companies may use information (not including your name, address, email address, or telephone number) about your visits to this and other websites in order to provide advertisements about goods and services of interest to you. If you would like more information about this practice and to know your choices about not having this information used by these companies contact the Network Advertising Initiative. Link to the NAI universal user opt-out
Specifically, but not exclusively Google has an interest-based advertising program:
Google, as a third party vendor, uses cookies to serve ads on this site.
Google's use of the DART cookie enables it to serve ads to you based on your visit to this site and other sites on the Internet.
Users may opt out of the use of the DART cookie by visiting the Google ad and content network privacy policy.
Identifying Information. In general, you can visit the Site without telling us who you are or providing any information about yourself. In some areas of the Site, we ask you to provide information that will enable us to process an order, offer services that require registration, assist you with technical support issues or to follow up with you. Generally, we request identifying information when you:
Register on any of our web sites.
Place an order.
Provide feedback to an online survey or tell us about an idea or suggestion.
Participate in a rebate program, contest, or other promotional offer.
Request a SPECIAL SERVICE
Request information or files from technical support or customer service.

In these instances, we will ask for your name, address, e-mail address, phone number and other appropriate information needed to provide you with these services. In all instances, if you receive a newsletter or other mailing from us, you will always be able to "unsubscribe" to these mailings at any time.
What we Will Do With Your Information. If you choose to give us personal information for any of the purposes above, this information is retained by us and will only be used to support your customer relationship with us.
What Others May Do With Your Information. We do not share, rent, or sell any personally identifying information provided through our Site (such as your name or email address) to any outside organization for use in its marketing or solicitations. In addition, we may also share aggregate information about its customers and its web site visitors to advertisers, business partners, and other third parties. For example, we might share that our users are x percent from Europe and y percent from North America. None of this information, however, will contain personal, identifying information about our users.
Third Party Links
TravelShepherd.com does provide links to other sites. Other Internet sites and services have separate privacy and data collection practices. Once you leave WWW.TravelShepherd.COM, we cannot control, and has no responsibility for, the privacy policies or data collection activities at another site.
For some of these links we are affiliates. That means we may receive commissions from your purchases or other positive actions on those site. Cheers!
Specifically, but not exclusively, we are participants in the Amazon EU & USA Associates Programme, an affiliate advertising programme designed to provide a means for sites to earn advertising fees by advertising and linking to Amazon.co.uk & Amazon.com.
Cookies
At times, we will use a feature on your web browser to send your computer a "cookie". We do not use cookies to retrieve any personal information from your computer. We only use cookies to learn ways to enhance our Sites, and to give you better, more personalized service while in our web site. You can reset your browser to refuse all cookies or indicate when a cookie is sent. However, some functions of the Sites will not function if you refuse cookies. These areas of our web site will have information posted about cookies, and when a cookie will be uploaded to your computer.
Changes to this Policy
We may from time to time revise its privacy policy. You should therefore periodically visit this page, so you are aware of any such revisions. We will not, however, use your existing information in a manner not previously disclosed. You will be advised and have the opportunity to opt out of any new use of your information.
Contacting Us. If you have any questions about our privacy policy and/or the practices of our web site, Contact us
Credit Card Security
We know customers are concerned about credit card security. We use one of the worlds largest funds transfer agencies - PayPal.
If you choose to use a PayPal account, your personal credit card information will not be given to us.
The template for this site as well as the hosting service come from Creative and Unique Web Templates I recommend them for quality and service response.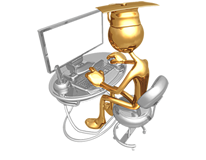 Our experience will enhance your experience!